It is a world transformed. Where things are not as they seem. It is a world of the Transformers...A world of the Heroic Autobots and Evil Decepticons!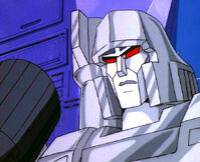 Tech Specs

Strength...10

Intelligence...10

Speed...4

Endurance...8

Rank...10

Courage...9

Fireblast...10

Skill...9

Profile

Alternate Mode: Tank

There was a time when the name of Megatron was honored by many across Cybertron. But power inevitably corrupts, and none are so powerful as mighty Megatron. Long ago, he forgot he was a hero, and became nothing more than a tyrant. The war he launched eventually drained his home planet of life. Not even the death of a world could satiate his hunger for conquest.


Gallery (Click on Thumbnail):


The Transformers and all its subsidiaries is a registered trademark of Hasbro and Takara Tomy